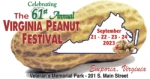 Virginia Peanut Festival
Veteran's Memorial Park
201 S. Main Street, Emporia, Virginia 23847
Sep. 21st - 24th
This 61st annual family-fun fair features a daily carnival with thrilling midway rides and games and favorite fair food, the Kick-Off Kook-Off peanut recipe tasting & competition (6-8 pm Thursday), and weekend festivities including live music, DJs, a food court, parade, car show, petting zoo, arts & crafts, educational exhibits, fireworks and more.

There is no charge for event admission, parking and live entertainment. Festival activities take place along South Main Street.

The four-day carnival is open from 5-9 pm Thursday, 5-11 pm Friday, 1-11 pm Saturday, and 1-6 pm Sunday on The Armory grounds at 105 School St.

Unlimited ride wristbands are $20 Thursday or Sunday and $30 Friday or Saturday while supplies last, or online before 5 pm Sept. 21 at DreamlandAmusements.com for $20 each, 2/$35 or 4/$60. See the carnival website for a pre-sale ride ticket special and coupon savings on rides and food.

Visit the festival website for the Friday and Saturday entertainment schedule and locations on Friday and Saturday. For more information, call the Emporia-Greensville Chamber of Commerce at 434-634-9441.